Gold Tone acquires Ome Banjo Company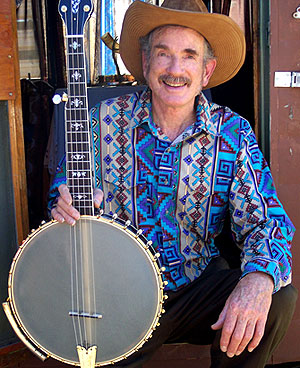 Banjo Crazy was created in 2008, when musician Paul Roberts became affiliated with the Gold Tone Musical Instrument Company. At that time, Gold Tone had just brought cello banjos back into existence after these large, low-tuned instruments had become all but extinct for nearly a century. Cello banjos had originally been played in early banjo ensembles. When the popularity of these ensembles began to fade, there was no longer a need to manufacture cello banjos.
Fast forward to our day and age: Musician Marcy Marxer was instrumental in bringing cello banjos back to life. Mike Seeger had loaned Marcy his vintage Gibson cello banjo, and Marcy began playing wonderful music on it, using it like an octave mandolin/melody instrument; something that had not been envisioned when these instruments were first created.
Here's where banjo maestro Bob Carlin entered the picture. Marcy Marxer's use of the cello banjo attracted the attention of Carlin, who had become affiliated with Gold Tone, as the creator of the Carlin banjos. He directed the attention of Gold Tone president Wayne Rogers to what Marcy was doing with the instrument, and this ignited Rogers' imagination. And the move was on for Gold Tone to bring cello banjos back into existence.
I came on the scene with Gold Tone after many years performing as a global music, multi-instrumentalist and composer. When Rogers brought me together with the 4 and 5-string cello banjo that Gold Tone was starting to produce, I immediately became very attracted to them and began incorporating them into my music. In fact, for many years they became the focal point of my music. Because I was so inspired by cello banjos I conveyed my enthusiasm to other, becoming an early advocate of the instrument.
After some time, I developed a modification for the instrument, whereby the neck is repositioned to raise the fingerboard above the head and using a taller bridge. The result is a more parallel relationship between the strings and the head, and further distance between the strings and head. This "neck-lift" mod results in much better access to the full tonal spectrum along the string, between the bridge and the rim. For me, this modification has served to expand variety and richness of tones that cello banjos are capable of producing. Ron Chacey helped me introduce the "neck-lift" to others, by coming up with the idea and executing it on my cello banjos. Later, I had Gold Tone luthiers perform the modification on banjos for some of my customers who felt that this would upgrade the instrument, as I did.
Here are a couple of my original cello banjo compositions, playing CEB-5 cello banjos with neck-lifts.
Wild Geese Flying on the CEB-5 Cello Banjo
Harvest Moon on the CEB-5 Cello Banjo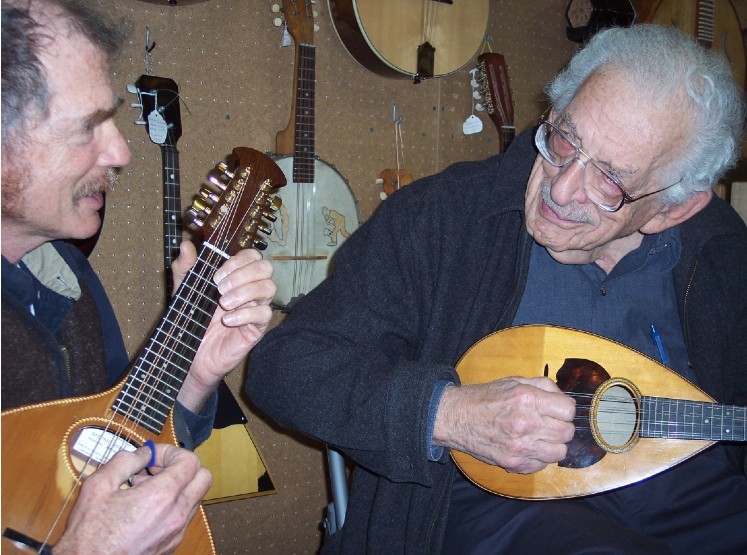 Paul Roberts and his father, renowned neurobiochemist Dr. Eugene Roberts. Photo taken at the Folk Music Center in Claremont, California.
For immediate release: Gold Tone Music Group, a world-wide marketer of a diverse line of over one-hundred-fifty different stringed and fretted musical instruments is pleased to announce that a tentative agreement to acquire the venerable Ome Banjo Company has been reached. Chuck Ogsbury of Ome and Wayne and Robyn Rogers of Gold Tone have completed talks about the goals each party has for the future of Ome. All agree that primary among these is that Ome remain a banjo brand whose products are to be built in America, with 100% North American parts content. In addition, it is Gold Tone's intention to maintain Ome's well known ultra-high build quality and perfect workmanship. Gold Tone managing director Justin Grizzle will spearhead the movement of operations from Boulder to Titusville, FL to facilitate the tightest control possible over the new division's manufacturing operation. Justin will also supervise overall marketing and online media efforts. Initial plans for the Ome product line will include continued emphasis on Ome's well-loved openback banjo offerings, with between four and six of the most popular models to be offered first. Other parts of the Ome range will follow as the facilities are built out and staffed. In addition, current Ome owners whose banjos are still under warranty protection can be assured that their coverage is still in force. While Gold Tone is renowned for offering instruments with very high value-for-price, they've started (with banjos such as the OB-3 "Twanger", the OB-2 Bowtie and the very successful OB-Béla) to offer instruments aimed at the semi-pro and professional banjoist. With the pending acquisition of Ome Banjos, Gold Tone is proud to offer Ome banjos to further fill those needs, and to have been chosen by Chuck Ogsbury to carry on the legacy of the company he began over fifty years ago.